This has definitely been a significant weather event from the Chicago area through the Upper Midwest and into the Mid-Atlantic.  Throughout the evening of June 29th and into the early morning hours of June 30th, as many as 4 million power customers from Indiana to Virginia lost power as a result of a phenomenon called a derecho.  A derecho is a widespread damaging wind event that lasts for many hours and spans hundreds of miles.  With temperatures in the upper 90's to near 100 in many of these areas over the coming days, it will be imperative for communities to work together to address the needs.  Please check in on those who are particularly vulnerable to extreme heat.  Remember that each customer without power represents a business, facility or a household, and that many more people are impacted.  Please stay safe, and bring the best out in your communities.  This is an opportunity to help one another recover.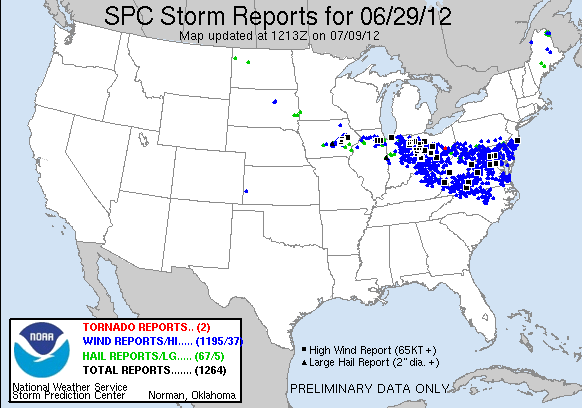 UPDATE: 7/2/2012 900pm ET / 800pm CT
Nearly 2 million customers still in the dark.  Numbers are improving slightly, down slightly from the more than 4 million customers out overnight, but will likely contin`ue for several days.
Significant Power Outages (10k+) By Electricity Provider:
Maryland / DC (375,000+)

189,506 – Baltimore Gas & Electric
179,847 – PEPCO

Ohio (~400,000+)

367,155 – AEP Ohio
  10,334 – Dayton Power & Light

Virginia (~400,000+)

173,497 – Dominion Virginia Power
150,302 – Appalachian Power

West Virginia (525,000+)

236,234 – Appalachian Power
161,207 – Potomac Edison

New Jersey (75,000+)

78,451 – Atlantic City Electric

Indiana (40,000+)

  42,465 – Indiana & Michigan Power