– At least 6 dead in Hood County –
– Preliminary Ratings Per NWS Fort Worth – Granbury – EF-4; Cleburne EF-3–
On the evening of May 15th, strong to violent tornadoes went through portions of Hood County and Johnson County, TX. Six people were killed in the Granbury area from this storm, and multiple tornadoes were produced as the storm cell tracked through the region. The maps below were created from radar images, and depict the rotation paths of the tornadoes as they impacted areas near Granbury and Cleburne, TX. As you can see from the images, the storms progressed from WNW to ESE (you can look at the timestamps), however the tornadoes tracked from south to north while they were on the ground. I'm sure this scenario has occurred before, but the differences between the storm motion and the path of the tornadoes themselves could be lending to some of the initial confusion in reporting areas impacted.
Granbury Tornado (Hood County, TX) – As of the morning after the storm, authorities in Hood County were reporting -6- fatalities from the storm, with nearly 100 injuries. Based on radar observations, correlated to scanner reports of streets impacted, below is some preliminary information on primary impact area. The hardest hit area was located south and east of Granbury, TX on the north side of Lake Granbury. Some areas / roads in the area most impacted include the area near Rancho Brazos Estates / Tumbleweed Lane (http://goo.gl/maps/HRxfL – Google Maps Link). There were a number of tweets reporting structural damage, homes collapsed. Looking more closely at some of the buildings in this area show that many homes are mobile homes, likely contributing to the high casualty numbers.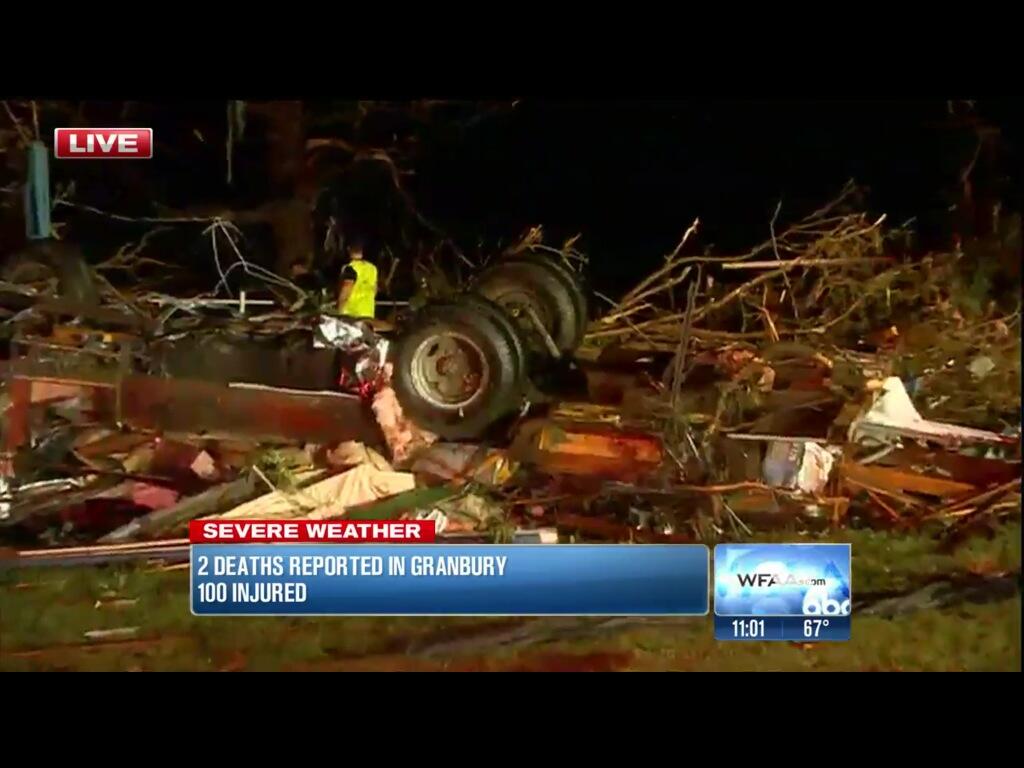 Later in the evening, another large tornado (reported by spotters to the NWS as a mile-wide tornado) impacted areas South and West of Cleburne, TX. One of my best friends from College lives there, so I'm quite familiar with that part of town. There is a lot of new residential development in that part of town – single story homes, most without basements, however the relative age of the homes hopefully means that they're built to withstand stronger winds. The roofs in most of this area are hip roofs which hold up better to stronger winds. Here's a link to Google Maps to Southwestern parts of Cleburne (http://goo.gl/maps/JfMvA) I'll update more as I hear more from the Cleburne area, but the radar images did not look good. Thankfully though, the strongest radar images occurred outside of town. Below are the timestamps (UTC) showing the rotation path through the Cleburne area.